Mobility Voucher
Smart Call
Deploy and repair on the spot
Emergency Call
Stolen Vehicle Tracking
Smart bCall and bCall
E-customer Assistance
Roadside Assistance
Charge Station Assistance
Customer Experience
Realtime Account
An interconnected ecosystem
The mobility sector and the way we travel are undergoing profound changes. The acceleration of digitalization, the electrification of vehicles and the inclusion of telematics have transformed our perceptions of the automotive industry.
In response to this new context, ARC Europe has developed over the last 30 years a multi-dimensional pan-European ecosystem which enables to offer our customers a global mobility support program in over 40 European countries.
Thanks to our customer-centric approach, we provide a wide range of interconnected, flexible and customized services allowing drivers to recover their mobility quickly while avoiding dealing with different touch points.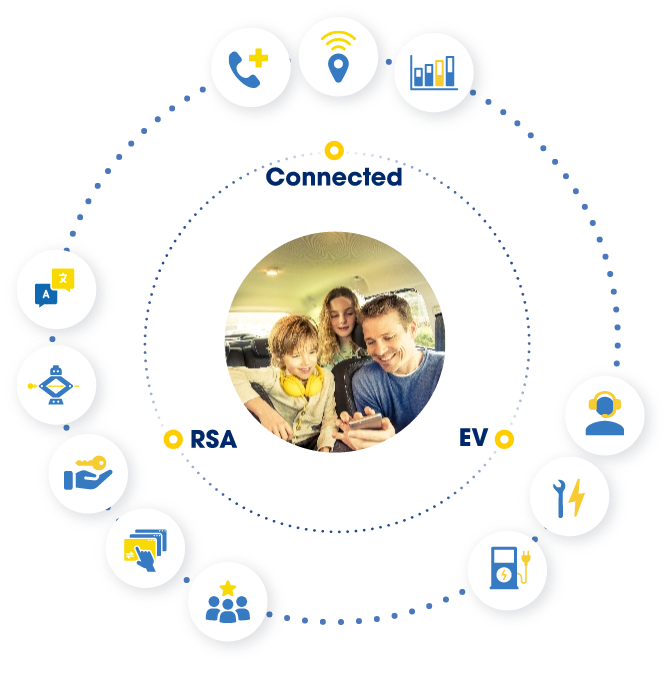 Restore and preserve the mobility of your customers in Europe
For 30 years, we have been providing breakdown assistance and mobility solutions 24/7 across Europe. Our extensive network of qualified service providers and strong partnerships with the largest automobile clubs in Europe enable us to offer tailored assistance solutions to meet the specific needs of your customers: remote or on-site breakdown assistance when possible, towing, replacement vehicle or taxi… Our mission is to quickly get drivers back on the road and enable them to continue their journey in the best conditions.
Accompanying the shift towards electric vehicles
The rapid development of electric mobility is redefining the automotive landscape and requires the development of new infrastructure and services. At ARC Europe, we have recognized this need and have developed a comprehensive suite of services that covers the entire electric ecosystem. Whether you're a driver who needs assistance because of a flat battery or at the charging point, we're here to help.
Our mission is to empower electric vehicle drivers by providing them with the support they need to keep moving forward. From on-the-spot assistance to charging infrastructure solutions, we are committed to providing reliable and efficient services that meet the needs of OEMs and their customers.
Towards a positive and predictive
assistance model
As the automotive industry shifts from traditional ownership to mobility services, OEMs are adapting by providing connected services to enhance the user experience.
At ARC Europe, we offer a comprehensive mobility roadside assistance program that includes innovative solutions such as Ecall, Bcall, and Stolen Vehicle Tracking to enhance the safety and security of drivers. Additionally, our Predict & Prevent Strategy leverages the vast amounts of data available through embedded vehicle systems to anticipate and mitigate potential roadside incidents.
Through our predictive assistance line, we aim to minimize the number of drivers experiencing breakdowns, improve the overall user experience, and deliver positive assistance to our customers.